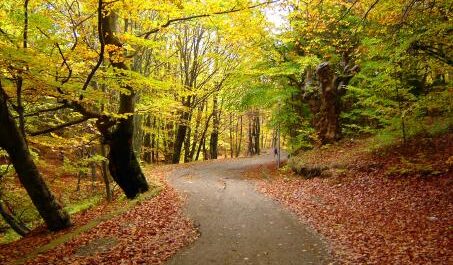 Mental Health Awareness Week. Day 4 – Walking and Talking in Nature
The Pandemic has affected how we, as Counsellors, interact with the young people we work with. We haven't been able to meet young people indoors at our office in Dalkeith and or visit other buildings such as schools to continue our work. We quickly shifted to online and telephone working and it was a transition for everyone, but now it seems like second nature.
Online working isn't for everyone though and some of our young people would prefer to see their Counsellor face to face, away from their everyday lives. All of our services are able to meet young people outdoors, and some of our colleagues have been doing this as soon as restrictions allowed!
There are many benefits of being inside a building, therapy rooms are private, predictable, and offer a sense of safety and containment. It's not always for everyone, though. We work really hard to make sure that people coming for counselling feel comfortable and welcomed. For some people, the thought of sitting across from a Counsellor in an enclosed space is too daunting, too pressurised and too clinical.
Sometimes the worries you want to bring to your session can feel less overwhelming outside. Nature has a unique power to liberate people and free up different perspectives. When we went outside our usual settings, many young people opened up in a way we hadn't seen indoors. Some young people want to 'walk and talk' and some young people prefer to sit on a bench.
It's not always possible to have access to nearby green spaces, and so instead we can venture out into more urban environments. Even in the absence of nature, there is a great freedom while walking. The pace can speed up or slow down. Nature might show us a flower growing in the cracks in the pavement and it reminds us that, even when it seems unlikely, we can go beyond surviving and thrive. It's possible that during your outdoor sessions, creating connections with natural spaces can create a personal meaning for you and provide you with a space to return to after your work with MYPAS has ended.
At MYPAS all our Therapists work in a person centred way. This means that your care is moulded around your very individual and specific needs. You have the power to shape how we work together and one of our pandemic 'upsides' is that we can offer something really positive to young people without being in our rooms. If video or telephone seems too impersonal or difficult to you, we may still be able to offer support, and meet outside for 'walk & talk' or a socially distanced chat on a park bench.
For more information on MYPAS' Services and how can refer yourself can be found by following these links:
MYPAS LGBT+ Youth Group (East Lothian and Midlothian): https://www.mypas.co.uk/services/lgbt-youth-group/
MYPAS Drug and Alcohol Support Service (East Lothian and Midlothian): https://www.mypas.co.uk/services/drug-and-alcohol-service/
Our East Lothian School Counselling Service: https://www.mypas.co.uk/east-lothian-schools-counselling/
Our Midlothian School Counselling Service: https://www.mypas.co.uk/midlothian-schools-counselling/
Our Midlothian Young Men's Counselling Service: https://www.mypas.co.uk/young-mens-mental-health-project/
Our Midlothian Counselling Service: https://www.mypas.co.uk/services/counselling/
Our Midlothian Art Therapy Service: https://www.mypas.co.uk/services/art-therapy/
Our Midlothian Family Counselling Service: https://www.mypas.co.uk/services/family-counselling/