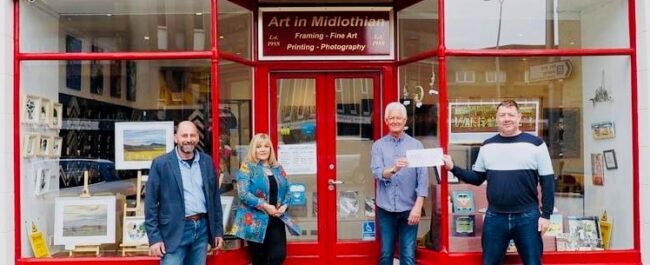 Local Artists Support MYPAS
In 2020, a small group of local artists got together and submitted artwork for an exhibition at the Riccio Gallery. The intention was for the group to create some original artwork and donate a share of all funds raised to MYPAS
The exhibition had a busy preview evening and decent sales throughout, enabling our group to donate £500.
The Artists featured include:
Margaret Bititci, Margaret McLaren, Linda Sheridan, Marina Masson, Pat Smith, Ruth Muir, John Sobik and Dave Wright.
Thanks to all of the artists, to Carlo Riccio for the gallery space and to Dalkeith Arts for their support. Thanks also to Tony Smithers for the quality images. For more information on the gallery and the artists, follow this link.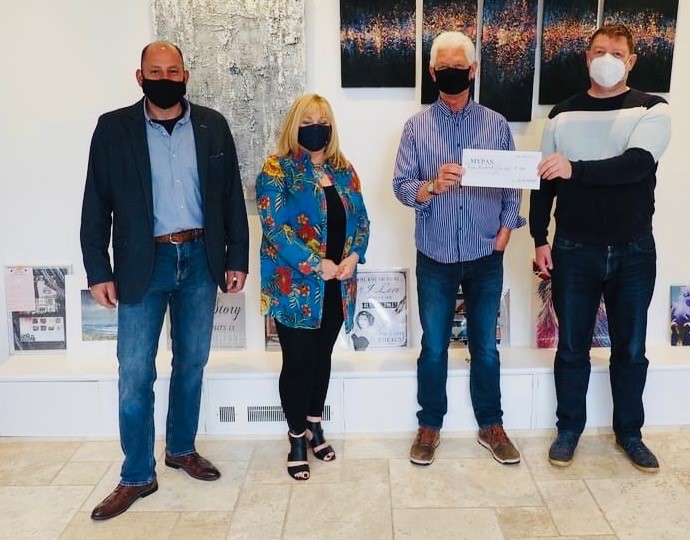 Dave Wright (2nd from right) presents the cheque for £500 to Dave Evans, MYPAS Chief Executive (right), Carlo Riccio, Gallery Owner (left) and Margaret Bititci, local artist, look on.
Your generosity is very much appreciated by MYPAS