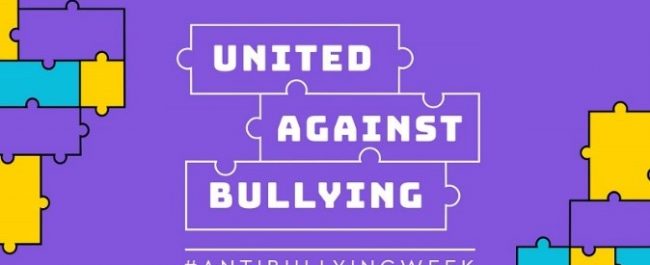 Blog – Banter or Bullying?
Fran Armour, Business Support Officer, offers some personal reflection and sources of support in Anti-Bullying Week.
Running from Monday the 16th of November to Friday the 20th, Anti-Bullying Week offers young people a chance to reflect on their experiences, either as the target of bullying or as the source of bullying behaviour.
As a young person, I experienced bullying throughout my teen years. Its effect on my mental health and self-image was profound. During those years, I didn't have anyone outside of my family who I could reach out to, to get help and support and this made me feel pretty isolated. At my high school in Midlothian, I tried to tackle the bullying by reporting it to a teacher but only made it worse. My high school experience was affected: I didn't want to go to school, had trouble sleeping and tried to fake illnesses to stay off school.
As I got older, I dealt with how bullying affected my sense of self but it took me a long time to feel better about myself. As a parent now, I always try to help my own kids with the bullying that goes on in their life whether it's online or at school. It's a difficult job though as sometimes my kids don't want me to intervene and I have to let them try to resolve the conflict themselves. Although it didn't work in my case, I would always recommend reaching out to a teacher, if the bullying occurs at school.
With the increased use of social media during lockdown to connect with friends, high numbers of young people have now reported that their emotional wellbeing has decreased as a result of being online. Online bullying and prejudice has significantly increased around racism, homophobia, transphobia and hurtful posts related to body image and physical appearance. Although we have control over our online social life, we also experience anxiety over the aftermath of our decisions. If we choose to block or unfriend someone on social media, will that be respected when you're stuck in a building with that person or group? I suspect the answer is probably not.
If you are bullying other people, it may be that you need to seek help for yourself. You may think your behaviour is coming across as 'banter' or that you don't mean anything by it, but you need to put yourself in the other person's shoes. Do we know the differences between banter and bullying? Do we know where and when to stop? We are all capable of bullying behaviours. What is important is that we recognise this behaviour and take action to put things right. This is incredibly hard and really uncomfortable – to admit that we have hurt someone and to recognise that often behind this bullying behaviour that there are deeper concerns and issues within ourselves. You also need help from a person or organisation that you trust.
The importance of support services for all young people cannot be underestimated and, thankfully, many support organisations are now online. For support with bullying, there is help out there:
SHOUT: Text 85258. A free and confidential text support service.
Bullies Out: Email mentorsonline@bulliesout.com an e-mentoring service supporting young people.
Childline: Offers a variety of 24/7 support methods for young people.
Switchboard: UK based online and phone support for LGBT+ young people.
LGBT Youth: Scotland based LGBT support helpline for young people.
Another source of help is MYPAS' new Digital Drop in. Midlothian and East Lothian based young people aged 12-21 will be able to chat live with a MYPAS worker about any issue which is having an impact on their health and wellbeing, e.g. mental health, substance use, relationships, worries about school/college/work, etc. Drop-ins will run on Mondays between 3.30pm and 5.30pm.
Fran Armour, Business Support Officer