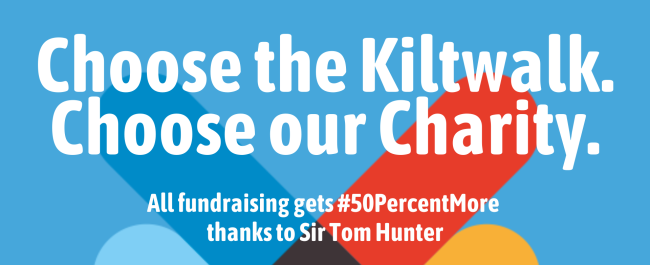 Kiltwalk 2023
Come and fundraise with us this year at the Edinburgh Kiltwalk, September 17th 2023. We need your support! It means so much to our children and young people to see people supporting them by walking for MYPAS.
See below for details on how to enter for FREE!
What is the Kiltwalk?
The Kiltwalk is a fantastic fun day out for individuals, families and groups. With a choice of distances ranging from 3 to 21 miles, there's something for everyone! On the day, there will be live entertainment, fun activities, and of course the fantastic atmosphere with everyone coming together representing their charities and helping to raise vital funds. You can learn more about the Kiltwalk from their website here.
When is it taking place?
The Edinburgh Kiltwalk is taking place on Sunday 17th September. The starting points vary across the city depending on your chosen route, but they all end at one central location, at Murrayfield Stadium.
Get Involved with MYPAS
We would love to invite our supporters and volunteers to take part in this year's Kiltwalk Edinburgh to raise funds and awareness for our work.
We are offering FREE entry to all walker who raise funds for MYPAS, along with a MYPAS t-shirt
The event is taking place on Sunday 17th September, and with 3 distances available, there's a way for everyone to be able to take part.
How to Register
For free entry, email fran.armour@mypas.co.uk for your registration code.
Head to the registration link here.
When filling in your details, make sure to select 'MYPAS' as the organisation you are raising funds for .
Please note…
You'll also need to type in Midlothian Young Peoples Advice Service or MYPAS in the select your charity name box.
Our team will email you to confirm your Address and T-Shirt size towards the end of August.
Tag us on your Social Media posts and we will share them @mypas
Our fundraising promise
We consider all MYPAS supporters as members of our family. Our promise is to always treat you with equality, respect and care. We will not share your personal data with any third party. We are keen to stay in touch with you to let you know what difference your fundraising is making and how the money has been spent – but only if you want us to do so.