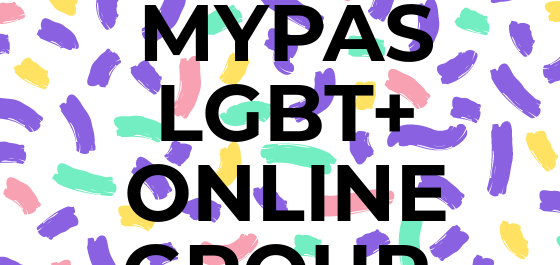 Blog – Changing our LGBT+ group to an online platform
From 'In the Room' to 'On the Zoom'
Nicole Walsh, Youth Development Worker (LGBT Project) reflects on moving MYPAS' services for LGBT+ young people from face to face contact to online contact.
The Coronavirus pandemic has meant that we have all had to adapt and change how we live our lives. We were used to meeting up in person with our friends, hugging our hellos and goodbyes and having a good chat over a cup of tea or a meal. In the last few months we had to get used to seeing our loved ones over screens through video calls and find new and creative ways to keep in touch. This has been a challenge but hopefully we have all had some fun along the way.
Coronavirus and the Government Social Distancing Restrictions have also meant that MYPAS have had to change how we support young people. Before lockdown, MYPAS ran a weekly LGBT+ group in Dalkeith for young people aged 12-21. Young people came along to our group to meet new friends, have interesting discussions about loads of different topics, and take part in activities and to have a laugh.
Since lockdown at the end of March, MYPAS began making plans to move our group to an online platform so we could still keep in touch. This meant MYPAS had to think about how to make sure our group members were safe online when taking part in our group. We had to think about confidentiality, the safety of people who took part and how young people might find some privacy to take part from their homes.
We ran our first online group in May. When we first started, some young people told us they were pretty nervous, felt it might be a bit awkward in an online group and didn't know what to expect. It can be really daunting to try something new and we have been proud of all the young people who have taken part for trying something new and for some, stepping out of their comfort zone.
The group gave young people a chance to stay connected through Pride month this year, when all of the usual Pride events had to be cancelled. Young people that have joined our online Zoom groups have told us they really like that they can still connect with their friends from the group, make new friends and have a chance to chat about all the things going on in the world!
Some young people have told us that they really miss the chance to meet in person. It has been hard for lots of young people who are used to spending time with their friends every day at school or college.  Sometimes in an online group, you miss the chance to chat one to one to other group members, and sometimes it can be hard to not talk over each other. Young people have told us that they enjoy being able to meet online but are looking forward to a time where there might be an option for both an online group and a group which meets in person.
The Coronavirus Pandemic has brought about challenges for everyone and we know it may have had a real impact over young people's mental health. MYPAS will be there to support young people back into feeling comfortable and safe to meet up face-to-face again.  We have learned a lot throughout lockdown and feel it has given us the chance to think of new ways of working that we may keep as part of our service even as the world starts to feel a bit more back to normal!
Nicole Walsh, Youth Development Worker (LGBT Project)