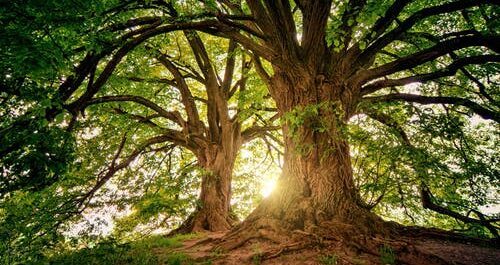 Mental Health Awareness Week – Sara's Nature Blog
As a family counsellor, trees hold a special meaning for me and feature strongly in my work. I often use trees as a metaphor for family. The roots might represent the past, the trunk the present and the branches in all their glory, the future. We use family trees to map out families past and present with our clients and these exercises allow us into the family's world. Even cut in half, trees show us their story, with the rings of change telling us their secrets.
One of the things trees represents for me is the potential for growth. Trees somehow manage to survive most things and bend and flex around the obstacles that nature throws at them. I have seen trees growing in the most strange and unusual places. I am sitting in sunshine but a short while ago there was snow and whilst snow in May is unusual, even by Scottish standards, it made me think about how trees survive the most inclement weather.
This last year has been challenging for most. As a society we have faced the biggest storm any of us have ever known. We can take our lead from nature, from the trees around us and take time to reflect that even during a storm, trees will hold fast with their roots, stay solid in their trunks and sway to the wind with their branches.
Or sometimes damage does occur…
I have seen trees with wounds on the trunks where branches have been torn away by wind, trees with roots that have lost their grip causing the whole tree to topple, or trees that are broken and in need of repair. Despite this, trees often continue to grow. Suddenly from nowhere there are shoots, stretching up out of the damage to reach towards the light.
I wonder if this may be how some families are feeling after this diffcult year, stuck in survival mode and in need of nurturing and perhaps a little repair. Perhaps your family has changed shape or become wounded? I believe most families like trees, have the potential for growth and with a little light and water shoots will grow again. Finding the light which heals your family may be as simple as a walk in nature looking at the trees or you may need more support to help your family thrive.
Families can mean many different things to different people and come in all shapes and sizes. Family counselling believes your family always has the potential for growth.
You can find more information on how MYPAS' Family Counselling Service could help you and information on how to refer here: https://www.mypas.co.uk/services/family-counselling/